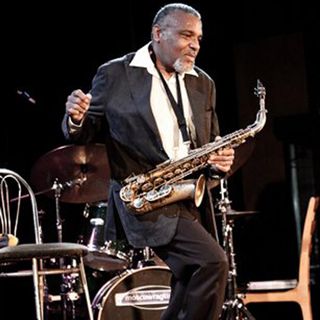 International saxophone extraordinaire
"'J'" is for Jazz in South Florida and Jesse Jones, Jr. is here to prove it.  The Miami native is a saxophonist extraordinaire and continues to be on the forefront of a burgeoning jazz renaissance in South Florida.  Jesse and his brother, Melton Mustafa, who is one of the great trumpet players of our time has been a running force in music for many years.  Jesse Jones Jr. is one of those hidden treasures that you can't help but to share with the world.  Jesse overwhelms you with his infectious positive attitude and dynamic stage presence.  
Jesse Jones Jr. attended Mississippi Valley State University where he excelled in music, but his journey actually started in Miami where as a young kid he would listen to a neighbor practice his sax while playing along with Cannonball Adderly albums.  "I loved that sound and knew right then I was going to be a musician for the rest of my life."  After college Jones joined the military and became a member of the US Navy Show Band.  He traveled throughout North and South America where he was given the opportunity to develop his showmanship skills.  Besides playing the sax, clarinet and flute, Jesse sang, tap dance and did comedy skits, and found that he had a natural gift for getting the crowd to become part of him.  "I just love to perform and make people feel good and satisfied with what they are hearing and seeing."  After serving out his four year term in the military, Jesse lived in Boston for a while, then back to his home town Miami, where he signed with Fantasy Records in 1996 and produced his first CD titled "Soul Serenade."  Most recently promoting his latest CD, released May 1, 2009, "The So Then Collection."  With this CD, you not only hear great music, but you can also taste the many sweet flavors coming from this wonderful musician/entertainer.  Through the many years of performing, music has treated me well.  I have performed with Donald Byrd, Blue Mitchell, Dextor Gordon, Joe Williams, Dee Dee Bridgewater, Eartha Kitt, Clark Terry, Allan Harris, Ira Sullivan, Melton Mustafa, Dr. Lonnie Smith, Monty Alexander, to name a few.
Jesse's Quartet or whether forming a quintet with his brother Melton, brings brillant ensemble work and always top quality music.  The arrangements are intricate...an indication of the many years these musicians have been together as a unit.  They know each other well and it shows.  A phenomenal reed player, Jesse is technically superior on the Alto, soprano and baritone saxophone, as well as flute.  He combines the hard-bop influence of Cannonball Adderley, the funk of Hank Crawford, and the sweetness of Paul Desmont.  Their influences may be detected within Jesse's riffs.  Add ot that some of the most unusual "scat" jazz singing when Jesse sings "straight" or through his horns, and the jazz audiences go wild.  The humor is international in scope since these are not words but rather sounds that move and groove with the music.  
The Jesse Jones Jr. Quartet puts on a show audiences remember for a long time.  In addition to working with his own quarter, Jesse gigs with other performers and other bands as a free-lancer.  His ability to captivate the audience with the classics, and adapt them to his own swinging interpretations, is legendary.  "I can only thank God for His blessings."  With the love and encouragement of my wife Thelma, family, friends and incredible fans, my heart will continue to pour out the music that we love so well.
Love, Peace and Jazz
Email: jessejonesjr@yahoo.com
Web Page: jessejonesjrmusic.com